Our Marianna Florida location was a second location for us. Born out of the Altha office and a huge demand for affordable insurance options in and around Marianna we opened a second location on highway 90 here in Marianna. 4713 hwy 90 Marianna fl, 32446 is you are looking for us or just check us out on the map below. Marianna holds a special appeal as it represents growth and service ability to us. We were able to take on the demand of the new clients as well as continue to serve our existing clients. For us that simply shows us that we are getting it right. Our staff are well trained and eager to help. We live locally so we know most everyone and those we dont know we take time to get to know so that we can offer the highest quality coverages for our area and what best fits your budget. In our offices you quickly come to understand you are not a number or a quota to us you are our friends and neighbors and we are here to help. Did you know that after hurricane Michael we were open and helping folks in just hours? We work fast and hard to regain power and access to internet to immediately begin servicing the needs of our clients and getting the much needed claims under way to begin the rebuilding process. While we certainly hope to never see something like that again it is something we take a great deal of pride in being able to begin to bring healing to Marianna Florida when you needed it the most. Ellis Insurance Agency has been in Marianna for a long time and we will stay here for a long time to come. If you are ready to come back to a local aget thatg knows and cares about you and your family or if you are just looking to lower your payments each month, give us a call, stop in and see us or just visit online for a free quote on all lines of insurance.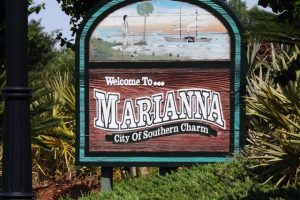 Marianna is an official Florida Main Street town. The downtown area has been restored to look as it did many years ago, to encourage heritage tourism and emphasize its unique character and a pedestrian-friendly neighborhood. The downtown area includes the Marianna Historic District, which has a number of antebellum homes.
Florida Caverns State Park is located 2 miles (3 km) north of town. There is also cave diving in underwater Blue Springs. St. Luke's Episcopal Church and cemetery are state landmarks, as they had a principal role in the U.S. Civil War battle of Marianna in 1864.
The Chipola River is a source of recreation during all but the winter months.
Marianna is certainly rich historically and we also have a tremendous natural resources to boast about. For instance one of the most notable springs in the world where water quality and diving are concerned, Jackson Blue or locally known as Blue Springs is frequented by professional divers from across the world. The Florida Caverns are also a destination spot as we have one of the largest cave systems in the northern hemisphere. We of course have some amazing year round farm attractions and events that are a boon to the ecotourism that is almost a beast kept secret but we are beginning to see more and more visitors, more and more traffic to be insured against! These are but just a few of the natural resources we are blessed with in Marianna and Jackson County. One more reason Ellis agency Insurance is proud to call Marianna HOME.

4713 Hwy 90 
Marianna, FL 32446
Monday-Tuesday: 8:00am to 5:00pm
Wednesday: 8:00am to 4:00pm
Thursday-Friday: 8:00am to 5:00pm